Beverly Hills Pawn
Beverly Hills Pawn takes you inside the Dina Collection VIP Room, where high-end merchandise and exclusive Hollywood memorabilia is bought and sold. Yossi Dina has been collecting Hollywood treasures for over 25 years. When a celebrity wants to cash-in on a famous prop from a movie, he is the man they call.
August 2018

22:00

Yossi and Aria get a look at storyboards from the 1984 movie "Gremlins" & Yossi and Cory try to convince a luxury-loving client to buy some expensive cigars.

22:00

Yossi and Dominique look to sell an Andre Agassi-autographed tennis racquet.
January 2017


Butch Patrick of The Munsters offers to sell his Munsters bicycle.


Yossi and Aria try to sell a vintage MV Agusta America Motorcycle. Then, a 'butler' of Hugh Hefner's enters with a surprisingly valuable set that belonged to Mr Joe DiMaggio himself.


Yossi and Cory hope to strike a deal for a painting of Raquel Welch. Then, one of the Dina Collection's loyal clients brings in a one-of-a-kind spooky prop from the movie Pan's Labyrinth.
July 2016


Yossi and Cory have the chance to buy an iconic prop from Raiders of the Lost Ark.


Marilyn Monroe's dress, a 1940's-era Wurlitzer jukebox and a 'golden snitch' from the Harry Potter films. Then, a young blonde comes into the store with a spooky mask from a sci-fi classic.


Johnny Fratto tries to sell Yossi and Dominique a ball autographed by the entire 1937 New York Yankees team. Then, a signature piece from the movie The Big Lebowski comes into the Dina Collection.
June 2016


Yossi and Cory look to sell a classic Beechcraft Bonanza airplane that was featured on the cover of 'plane and pilot'.
April 2016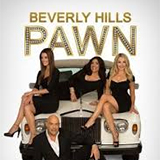 Yossi and Cory have the chance to buy rare movie artwork featuring the "biggest" star of all time - King Kong!