24 Hours In Emergency
24 Hours in Emergency is a British reality and medical television series that is set in the A&E department King's College Hospital in Denmark Hill (Camberwell) and later on at the A&E room at Saint George's Hospital in Tooting (Wandsworth). The idea behind the series is to provide viewers with an unprecedented look into some of Great Britain¡s busiest Accident & Emergency departments. The success of 24 Hours in Emergency has led to the show's production company producing several related shows, including a four-part documentary on mental health called Bedlam and another medical documentary called Keeping Britain Alive: The NHS in a Day. The original 24 Hours in Emergency was the recipient of Royal Television Society Award in the category Documentary Series in 2012.
Season 16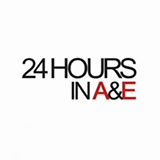 46:33

16-year-old Sammy has been brought to paediatrics A&E by her mum Jo, after her heart rate fell to dangerously low. Sammy suffers from Anorexia Nervosa and doctors are concerned about potential damage to her internal organs caused by her prolonged period of calorie restriction. Jo talks of Sammy's journey with Anorexia and ...

46:13

13-year-old Harriet is rushed to St. George's after being knocked off her bike at a pedestrian crossing on her way home from school. Doctors are concerned she may have sustained a serious injury to her head and her legs. We meet Harriet's father Gabriel and mother Denize who are by her bedside. We learn how the couple met ...

46:33

It's a bank holiday weekend and 42-year-old Mark is rushed to A&E after being hit by a car whilst crossing the road. After bullseyeing the windscreen with his head, doctors are concerned he may have suffered internal injuries and a bleed on the brain. His two, young daughters, wife and mother are by his side in resus as th...

46:26

61-year-old Sue is airlifted to hospital after falling from her mobility scooter and being knocked unconscious during a day trip with her family. Doctors are concerned she may have sustained a significant head injury as well as an injury to her abdomen. Her daughter Natalie and husband Mike are with her in Resus. Mike talk...

46:04

41-year-old motorcyclist Robert is rushed to A&E after a serious motorbike accident. Doctors are concerned that Robert may have sustained extensive spinal injuries. His partner Mariia joins him in hospital and explains the struggles during the birth of their son Kieran.

46:29

74-year-old Barbara is rushed into St George's with a dangerously high heart rate after she became dizzy whilst out shopping. As doctors work to bring down her heart rate, we hear from her daughter Ana about her mum and dad's phenomenal success in the jazz world and how that all cruelly changed when her mum was diagnosed w...

45:37

54-year-old family man, James, is rushed to A&E after a head on collision. Paramedics found him slumped over the steering wheel. Doctors are concerned that he has sustained a serious life changing injury. James' wife Pauline explains how in his desire to provide for his loved ones, James has worked all hours - but often at...

46:08

14-year-old Alicia is rushed to St. George's after falling head first over the handle bars of her push bike and hitting her head. Doctors are concerned she may have sustained serious injuries to her neck and her spine.

46:29

77-year-old John is rushed into St George's with a life threatening abdominal aortic aneurism otherwise known as a 'Triple A'. As Doctors work out whether they can save his life with emergency surgery, we hear from his only son, who faces losing not only his father but who he considers to be his best friend.

46:25

65 year old Kin, who has Motor Neurone Disease, is rushed to St George's with severe sepsis. As doctors work to get the infection under control, we hear from his wife, Kuai Peng about their life together and how her husband has refused to let the disease take away his voice.