American Pickers
American Pickers catch up
Catch up TV on American Pickers. Watch the latest and all other episodes of American Pickers now online, broadcast on 7Two. Catch up on your favorite 7Two TV show: American Pickers. Replay tv on its best! Mike Wolfe and Frank Fritz are on a mission to recycle America. Their job: to dig through junk piles, abandoned barns and neglected garages for hidden memorabilia. Sometimes they make a buck; and sometimes they walk away with little more than the history of an item. They love their work, and the open road is their office.
Season 4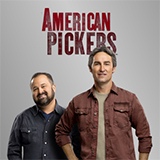 43:00

While Mike and Frank pick the back roads of Minnesota, they challenge Danielle to sell a ten-foot fiberglass cowboy boot that's been gathering dust for over a year.
Season 1

22:00

Mike is thrilled about finding a famous cartoonist's sketchbook, and the guys find out what their new pottery collection is worth.

22:00

Mike and Frank meet up with a motorcycle collector before they scour the bizarre collection at the Alabama Museum of Wonder.

43:00

Mike and Frank meet a relic hunter whose collection includes dinosaur fossils, and Vic's automotive graveyard is a picker's paradise.
Season 13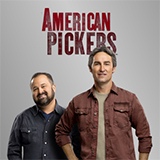 42:00

Mike and Frank uncover toy cars worth as much as the real thing and a stash of custom motorbikes with an incredible back-story.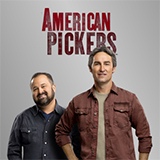 42:00

Mike and Frank find a massive warehouse in Chicago filled with castoff treasures, including some superstar sports memorabilia that are a total slam dunk.
Season 9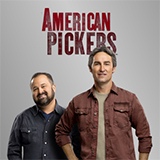 42:00

Mike struggles to free a massive vintage sign from a tight corner, then the guys strike an impossible deal with the "Sign Boss". Back in Iowa, Danielle joins Frank for a final joyride in a 1956 Chevy.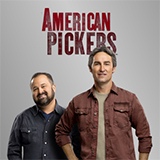 42:00

Frank celebrates his birthday with a picking bonanza. Plus, the guys make a woman's dream come true by brokering a deal to honor her deceased husband.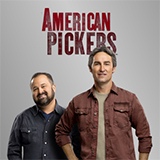 42:00

The guys stumble on the mother lode of Americana in Maryland. Then, a former garbage man's trash is a real treasure.
Season 15

42:00

Lost for half a century, the guys heroically return a naval artifact to its rightful home in Washington, D.C.