Instant Hotel
Instant Hotel catch up
Instant Hotel is an Australian reality series that was made for television which follows four pairs of contestants (five in the first season of the show) and home owners who have transformed their homes into hotels.The Projectof each participating pair is judged by the other pairs on the show and given a score, with the winner taking home an ultimate prize. In the first season, this consisted of an all-expenses paid stay at an Instant Hotel in California, but this was changed to a cash prize of USD100'000 in later seasons. The scores received by the participants are based on the house itself, its location, value for money, and the quality of a good night's sleep there. Subsequently, each home owner can also score the other contestants on their stay as house guests, which also influences the final score. Instant Hotel was produced by Seven Studios, the company that also created popular shows such as House Rules and My Kitchen Rules.
Season 1

50:00

The couples head to Melbourne to stay at Serena & Sturts Instant Hotel. Frustration builds when guests discover they are staying in an outer suburb 40 minutes' drive from the city.
Season 2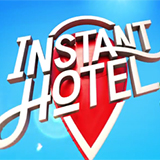 46:00

Gene and Sharon have been particular about their Instant Hotel stays so far, so the pressure is on to deliver a great experience. What will the judges make of the couple's mish mash design style?

52:00

Mother and son team Debbie and Justin hope their beach penthouse with stellar views will get them a score worthy of this Instant Hotel's position. Will the interior match the glory of its outlook?