Aussie Salvage Squad
Aussie Salvage Squad catch up
Aussie Salvage Squad is an Australian factual television series that was produced by Australian producers Darren Chau (Aussie Gold Hunters, Outback Opal Hunters) and Craig Graham (Moment of Truth, The Embassy) for digital television multichannel 7mate. The show is about the world of marine salvage and rescue in Australia, and follows marine rescue experts in Whitsundays, Queenslands, as they deal with salvage work resulting from cyclones and other natural disasters. The team of experts in Aussie Salvage Squad and the high-risk work they do are headed by Luke Purdy, who providesInsightinto the real-life-behind-the-scenes effort that goes into keeping the Australian coastlines safe from threats such as marine wreckage, toxic spills, and natural disaster. A thrilling look inside truly heroic work that generally goes unnoticed by the big public.
Season 4

43:00

Team Salvage return to Lismore for their final epic mission of the season - to recover 3 light planes and 2 containers from a local farm.

44:00

Team Salvage is on a time-critical mission to retrieve a scammed derelict yacht from a crocodile breeding ground. Team West Coast chases a triple-tow big cash payday.

44:00

Team Salvage join Darwin's Harbour Master to clear the area's waterways of hazardous wrecks. Team Edge Recovery tackle a broken-down motorhome trapped inside a near impenetrable forest of trees.

44:00

Team Salvage heads to the Northern Territory for an epic time-critical beach recovery. Team Edge suffers a major cost blow-out on a job at Mount Disappointment.

44:00

Team Salvage attempts to recover two 16-tonne sections of a bridge washed away in heavy flooding. Team Edge Recovery goes off-road to rescue a driver stranded in a National Park.

44:00

Team Salvage is on Stradbroke Island in Queensland to remove a toxic vessel that's threatening to destroy the area's marine life. Team West Coast is on the run with back to back emergency callouts.

44:00

Team Salvage takes on a complex military museum recovery in the heart of Brisbane. Team Edge Recovery responds to a four-wheel drive enthusiast missing in Victoria's high-country.

44:00

Team Salvage comes to the rescue of a young family who own and run Lismore's iconic roller-skating rink. Team West Coast attempts to recover a toxic vehicle abandoned in the sacred Collie River.

44:00

Team Salvage is in flood ravaged Lismore in NSW to recover a P3 Orion spy plane. Newcomers Team Edge Recovery put their reputation on the line at a major car rally event in Victoria.
Season 3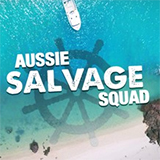 44:00

Follows a group of marine rescue experts as they protect Australia from toxic spills, environmental hazards and marine wreckage.